Simple locator maps for your website, flyers and direct mail. Increase website enquiries and direct mail responses.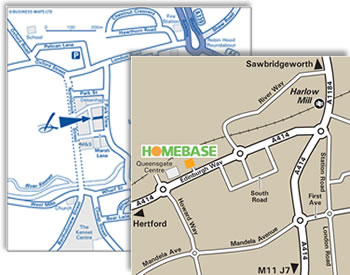 Your locator maps includes:
Any size up to 15cm x 15 cm
Any layout: round, square or rectangular
Colour and style to match your corporate identity
Your logo or building photo as a pointer
Local landmarks to help pinpoint where you are
Optional second map to show main roads
Optional second maps for zoomed-in details
Your map in PDF and EPS format
Proof ready within 48 hrs 9 times out of 10
Free with your locator maps:
Free changes for 3 years
Free extra file formats: jpeg, tiff, eps...
New proofs until you are 100% satisfied
No payment until your map is signed-off
Get More Customers in your store... Make More Sales.
Easy to use locator maps enhance your web contact pages, flyers and direct mail with an immediate, practical call to action.
More responses to your direct marketing online and offline. Get more customers to your door by making it easier for them to find you.
Put a stop to approximate postcode searches
Remember typing your own postcode and seeing a location a few streets away?
Online mapping solutions do not always locate your stores accurately.
Our custom designed maps will ensure pinpoint accuracy. A lost visitor is a lost customer.
Free mock-up if you have over 20 sites
Send us your logo, a short brief and one of your addresses and we will send you a customised demo map, entirely FREE. No strings attached.
Our expert map designers will answer your questions and help you make the right decisions. You will get exactly what you need at a price that fits your budget.